Homer Water Transportation & Freight Hauling Services

Homer Water Transportation Service
Go with the best Homer water transportation service, 49North! Our vessels provide safe, fast, friendly, and dependable drop-off and pickup services to most Kachamak Bay State Park trailheads, yurts, beaches, and public use cabins. When you choose 49North as your Homer water transport service you will be cruising in style with a newer, spacious, and comfortable vessel with large windows to see otters, puffins, whales and many more marine animals on the way to your destination. Our vessels come equipped with a bow ramp that opens fully in the front, that can go right up to the beach for easy and safe access on and off.
Our custom 38-foot landing craft is one of the finest Homer water transportation service options suitable for all types of water taxi needs. If you need to haul side by sides, four wheelers, kayaks, pallets of wood, 49North is who to call. Our vessels are custom built for water taxi service and are capable of carrying large loads of gear or cargo anywhere in Kachemak Bay including 6 passengers in a single load! Here are some activities you can enjoy – Hiking – Kayaking- Tide Pooling – Beach Combing – Wildlife Viewing – Overnight – One Way – Roundtrip.
Our Vessels are designed to provide stability, comfort, and visibility and that makes us your best choice for your Homer water transportation service needs. We know your time is valuable and here at 49North our mission is to give you an experience of a lifetime, so please call us today and let our expert captains whisk you away. Your adventure awaits! If you would like to discuss a custom trip Email Us and we are happy to discuss it.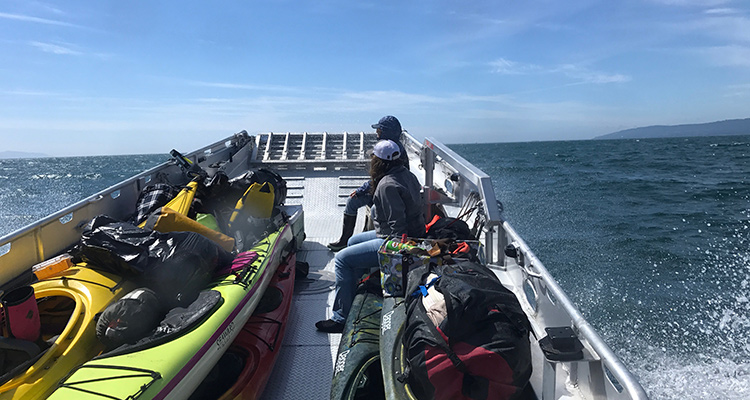 Kachemak Bay & Homer Water Transportation Service
We offer daily water taxi service from Homer, Alaska to any location in the greater Kachemak Bay Area. We depart from the Homer boat harbor and can take people, gear, and or cargo to the destination of your choice. Our boats are equipped with front end loading ramps that are handicap accessible and very easy to load and unload from. Use our convenient online booking system to schedule your ride today.
Trip Details:
• Price: Most Kachemak Bay Destinations is $90.00 plus $6 park fee per person round trip
• Drop Offs Available Every Hour Beginning at 7AM
• Time Dependent on Location
• Call for Availability
Kachemak Bay Information
ALL OF OUR VESSELS ARE CUSTOM BUILT IN ALASKA FOR OUR TOURS AND WATER TAXIS. WE HAVE YOUR SAFETY AND COMFORT IN MIND. THEY ALL HAVE COMFORTABLE SEATING, AMPLE DECK SPACE AND HEATED CABINS. BOARDING ON AND OFF AT THE BEACH IS BY A BOW RAMP FOR MAXIMUM SAFETY.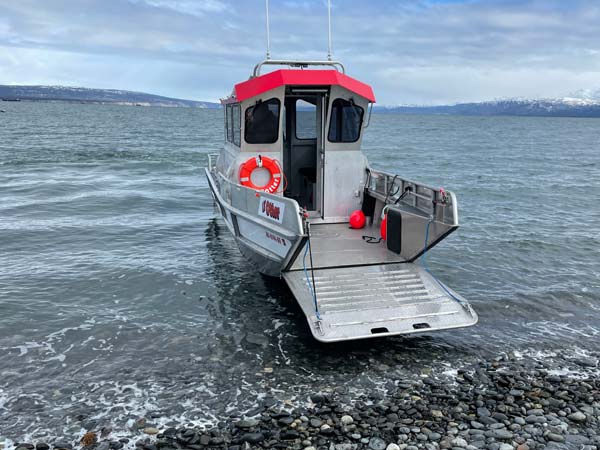 Easy Affordable Homer Water Taxi Transportation Service to Get You There!
There are just some places you can't get to by road and the pristine wilderness of Kachemak Bay State Park is one of them. Thats where we come in. 49North Alaska Adventures Homer water transportation service captains and crew know all the great getaway locations accessible via our Homer based water taxi service. In just a few minute boat ride from the harbor in Homer, Alaska, you can experience remote Alaska enjoying old growth timber forests, massive glaciers, stunning scenery, and more. Not only that, the water taxi ride to and from Homer to whatever Kachemak Bay location you choose, is a wildlife tour adventure of it's own. The Bay is thriving with marine life, birds, and some of the best views found anywhere in the world.
CHECK OUT KACHEMAK BAY STATE PARK TRAIL OPTIONS